Greek Easter Sweet Bread
---
Friday, 10 April 2015 pper
Danielle Lachana
This sweet yeast Easter bread, known as ''Tsoureki'' in Greek, is served on Easter Sunday, to break the fasting for Lent. Its particular taste is given by the use of Mahlepi (ground wild cherry seed kernels)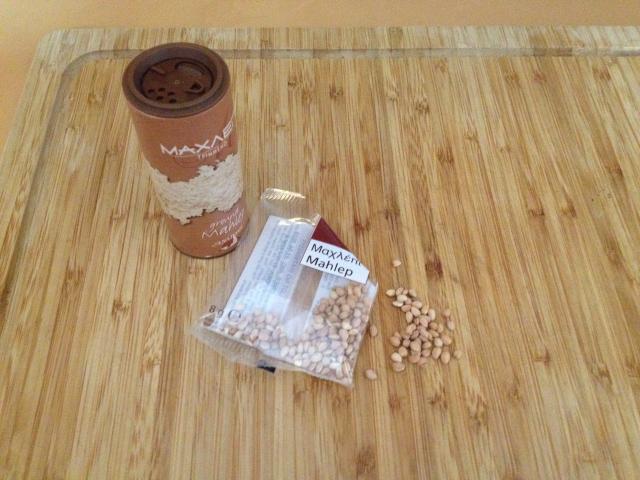 and Mastic (the sap of the Mastic tree native to the island of Chios - dried into resin 'tears').
Both Mahlepi and Mastic can also be found ready ground, but for the best taste pound your own to a powder*. Do not worry if you cannot find these products, or if you do not like the taste, they can be substituted by finely grated lemon or orange rind, and/or 1 tsp vanilla essence. (Ground fennel seeds, or anise seeds are also often used). 
Tsoureki is traditionally made on Holy Thursday - which is also the regular egg-dying day. Its  traditional look comes from it being braided (plaited), with one, or more, red-dyed**, hard-boiled eggs inserted in the braid. To avoid the red-dye staining the bread during cooking, insert ordinary raw (or hard-boiled) eggs in the braid and replace them with red-ones in the cooked, completely cooled bread.
If using dried yeast, types and strengths can vary so follow packet instructions regarding quantities.
Allow enough time to make this recipe, bearing in mind the amount of time required for the three risings. True, there are quicker methods but the traditional one produces a more authentic textured Tsoureki - and it is worth the extra effort to truly celebrate Easter, which for the Greeks is the most important time of the year.
***
RECIPE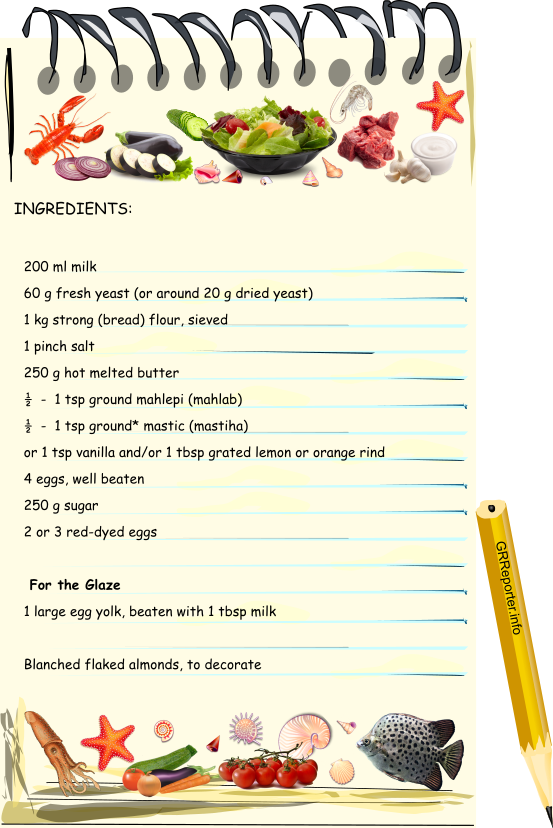 METHOD
In a medium-sized bowl, heat the 200 ml milk until just warm (between 32o C and 38o C [90o F - 100o  F],  if you have a cooking thermometer). Do not overheat, or it will 'kill' the yeast and the bread will not rise.
Dissolve the yeast, crumbled if fresh, in the milk. Add  60 g of the flour and mix until it forms a thickish paste, 'squashing' out any lumps. Cover the bowl with cling film (plastic wrap) and wrap it in a towel or blanket. Leave this 'starter' dough to rise in a warm, draft-free place (ideally between 27o C and 32o C [80o F - 90o F) until doubled in bulk - about 30 minutes to 1 hour (longer if in a cooler place).
The risen ''starter''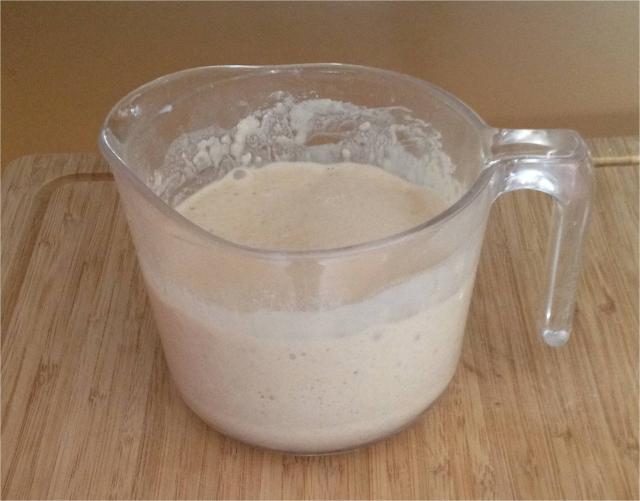 Sieve the remaining flour into a large bowl together with the salt. Add the melted butter, the mahlepi and mastic, or vanilla and/or lemon/orange rind. Add the eggs, sugar and the risen 'starter' dough and knead (easiest with a mixer dough hook) until all the ingredients are well combined (15 - 20 minutes)  and the dough is soft, a bit sticky and buttery. If it is too still too sticky, you can add a little extra flour, or a little melted butter if too dry.
Transfer to a lightly-greased large bowl.
Cover the bowl with cling film, wrap it completely in a towel or blanket, and leave, as above, in a warm, draft-free  place for 2 hours or longer, until risen and doubled in bulk.
Half-risen dough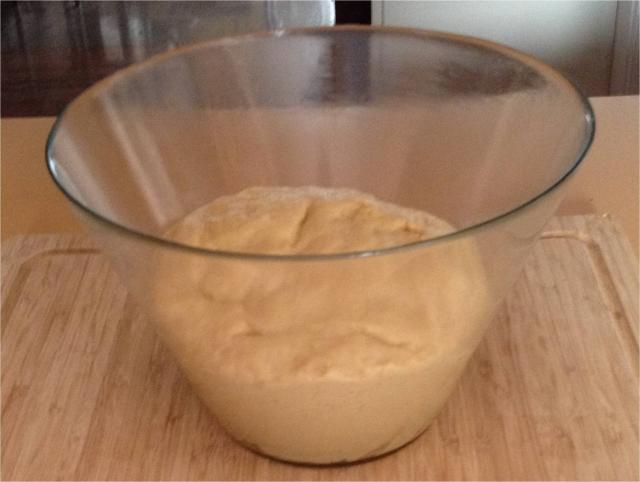 Depending on the particular yeast used and the room temperature this could take up to 4 hours or more.
Fully-risen dough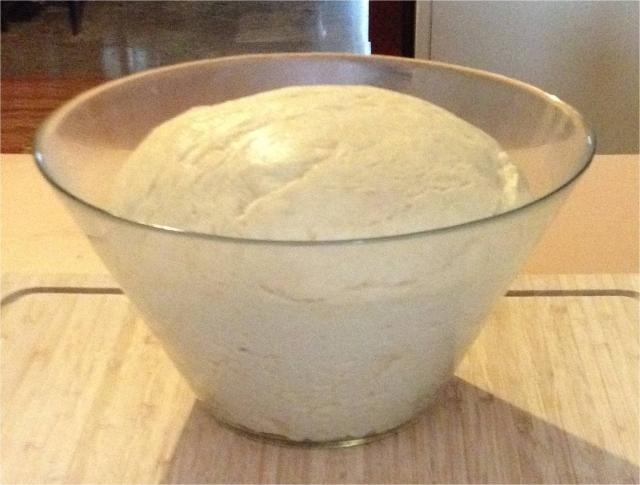 Re-knead a little (preferably by hand) then divide into three equal pieces. On a sheet of baking parchment (greaseproof paper). roll the pieces into thick ''ropes''.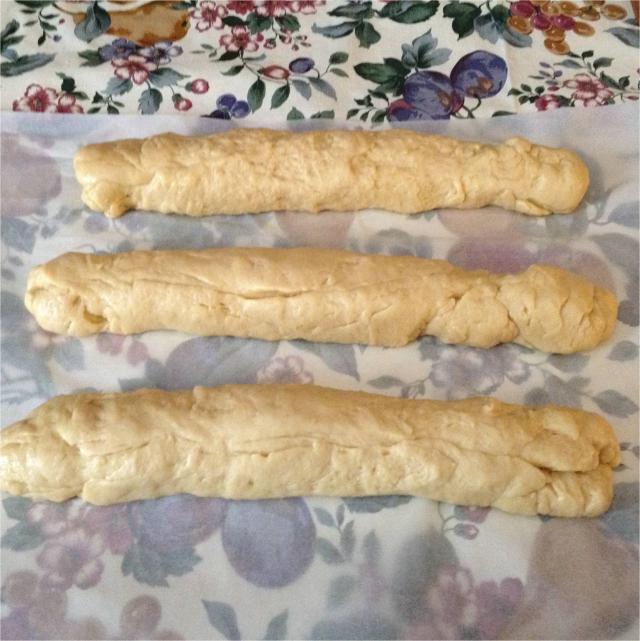 Pinch all 3 pieces together at one end to secure, then braid the ropes loosely to allow room for rising.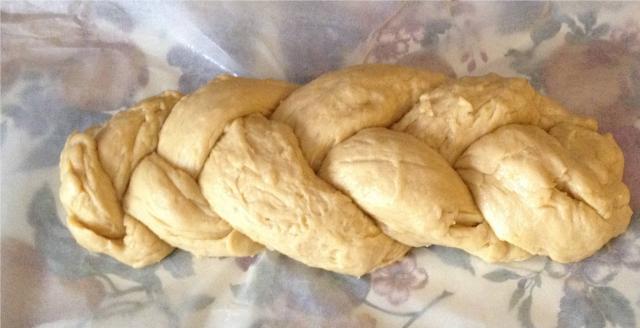 Entwine two or three red (or plain raw or hard-boiled eggs, to avoid staining as mentioned above) into the dough. Pinch the other end of the ropes together to secure the braid.
Transfer (together with the greaseproof paper, on to a baking sheet. Cover with a cloth, and leave in a warm place to rise again (about 1 - 1 ½hours) until well risen.
Lightly brush the top with the egg and milk glaze and sprinkle with the blanched, flaked almonds, pressing them in lightly.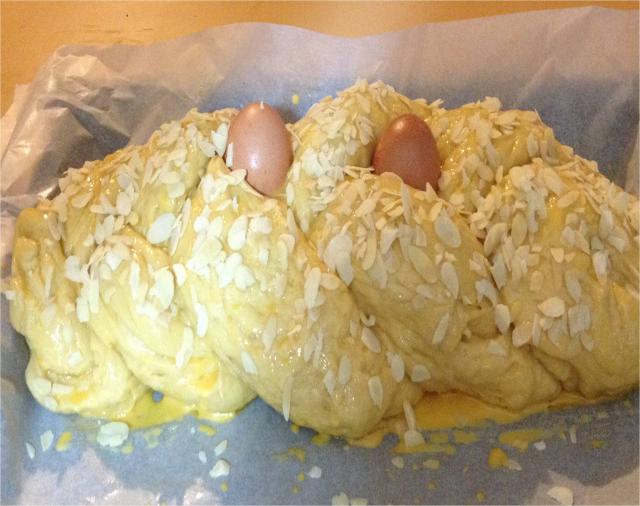 Put the baking tray with the Tsoureki and baking parchment just below the centre of a preheated moderate  oven and bake at 170o C (325o F, Gas Mark 3) for around 30 - 45 minutes until golden-brown and easy to remove from the greaseproof paper. Cover loosely with foil if over-browning. The bread should sound hollow when tapped on the base.
Do not overbake as it can quickly dry out.
Cool on a wire rack.
When completely cooled, replace the oven-baked plain eggs with red ones. It is best not to eat the oven-baked eggs, as they may not be uniformly cooked and probably over-done!
Store the Tsoureki wrapped in a towel to keep it fresh for 3 - 4 days and prevent drying out.
Kalo Pascha! Happy Easter!
* Mastic can become inherently sticky so to prevent problems when you grind or pulverize it, first freeze it for about 15 minutes then add 2 tsp of the sugar to it. Put in a plastic bag and bash with a rolling pin or hammer, or grind in a pestle and mortar, to obtain a powder
** If you have not bought ready-dyed red eggs and wish to make your own - and if you cannot find the packaged red dye for eggs - , here is a link to a traditional dying method using onion skins! 
---
Γκαλερί